I helped four families downsize last year. They're now all settled in their smaller homes after selling their overwhelmingly large homes. That being said, downsizing takes a considerable amount of planning and effort.
Dan and Sandy Capell were among the families that downsized last year. They sold their spacious two-story 3,676 sq foot home on a .25-acre lot, and bought a 2,536 sq foot rambler on a .11 acre lot complete with an HOA. With too many stairs and yard work piling up, their house was no longer the oasis they were hoping to grow old in.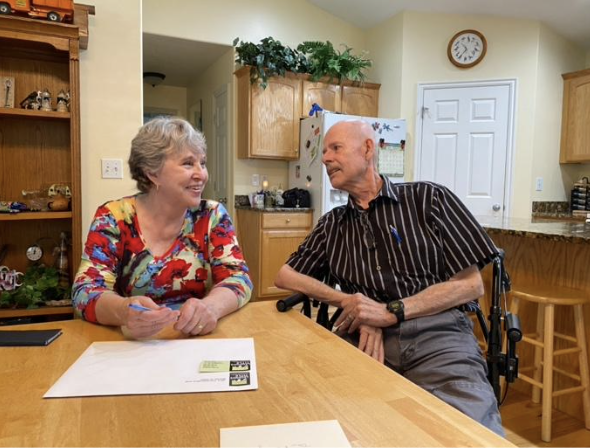 I asked the Capells to share their experience, and they gave nine tips for those contemplating downsizing.
🏠 You can't take everything with you 
Moving from a large home to a smaller one means not all your belongings will fit. You have to analyze what is most important to you and say goodbye to the items not-so valued. 
🏠 Downsizing is hard emotionally 
Getting rid of their treasured items was harder than anticipated. Sandy had furniture items she loved and Dan owned many tools, guns and recreation items.
🏠 Get organized 
There are lots of ways to get rid of things: give to family, sell online or at yard sales, throw items away, or donate to thrift stores and local organizations. 
🏠 Find ways to give back 
One thing that helped Dan be able to part with his tools was donating them to a local trade school. Knowing they will be used to help others made it easier to give them away. 
🏠 Sell high priced items 
Dan sold guns and other items to a local collector.
🏠 Consider hiring help 
The older we get the more difficult it is to physically move. The Capells decided to hire a moving company.
🏠 Be patient 
Giving away items, packing and moving is stressful. Be patient with each other and committed to getting along. 
🏡 Declutter after the move 
After you move, expect another round of parting with things. Dan and Sandy thought they had given away plenty, but once all the items were in their new home, they could see it wouldn't fit.
🏠 Give yourself time to adjust 
It takes time deciding where to put things, and adjusting to new patterns, friends, shopping, etc. After about two months, the Capells were beginning to feel comfortable and glad they made the move. 
Dan and Sandy's final words… "We like it here. We are glad we made the move. It was definitely the thing to do."
Watch the Capell's interview on my YouTube channel here: https://youtu.be/fPwy3_c03EQ
Are you looking to downsize? I'm here to help you every step of the way. 
Contact me – (801) 471-9027